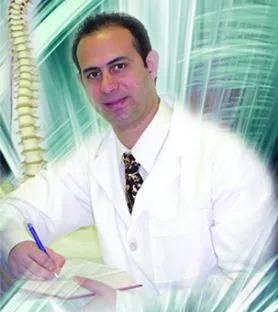 Hi My name is Dr. Hamid Sabet C.D, Q.M.E, I graduated from Cleveland Chiropractic College of Los Angeles in 2002 and have been a practicing chiropractor since that time. I currently have the honor of serving Hemet and Lake Elsinore area. I also hold a Bachelor Degree in Chemistry from University of California Irvine.
The reason I choose to be a Chiropractor is because my life was changed as a Chiropractic patient when I was a 21yr old active person. I was a marathon runner and in the swim team, however I was constantly sick due to lung infection. After numerous visits to doctors and trying number of antibiotics I found myself one day in bed at the age of 21 when I should be in the pool practicing for my next competition or running preparing for the next marathon and doing everything a normal 21 yr old would do, instead I was in bed with fever, headaches and 7-8 bottles of pills including an inhaler. I felt like an old man in a young person body. I became severely depressed and disappointed.
Being frustrated I decided to try a Chiropractor upon a family member recommendation. During my visit to the Chiropractor I was examined and my body was tested for different dietary and environmental stressors . It turned out I was severely allergic to chlorine and other foods. I was given a regimen of foods to eat and not to eat and was given number of different supplements. My first visit after it was all said and done cost me close to $400 which was a lot of money for a college student like myself. I put it on my credit card and at that point I was committed to follow through. I followed the regiment and took my supplements for 8-9 months. After the third week my infection was gone totally gone and I had never felt better. I started swimming again and my infection never came back. I was so inspired that I decided to become a Chiropractor so I could help people live a powerful life and to inspire my patients to take control of their own health as I was once inspired.
I continues to increase my knowledge, I have taken extra courses and taken exams to become a Qualified Medical Examiner. I have also taken post graduate courses in sports rehab.
I feel truly happy and blessed to have taken this journey to become a chiropractor so I can have a chance to serve you and the community.
I look forward in meeting you at one of our offices and serving you and your family.